Litchfield's Tim Donovan, left, gives chase in a 2-1 win over Gilbert on Tuesday. John McKenna photos
One more goal and Tim Donovan, Litchfield's scoring machine, ties the school's career record of 64 goals established by Alex Hula in 2007.
Only a junior, Donovan pulled to within one goal of the record by scoring the game-winning goal in a 2-1 victory over Gilbert at Plumb Hill Playing Fields on Tuesday. Litchfield's next game is Thursday at Thomaston.
Litchfield trailed 1-0 at halftime before shaking off its sluggishness and dominating the second half. Donovan's goal gave the Cowboys a lead they would not relinquish and helped them improve to 7-0. Litchfield is ranked third in this week's Connecticut High School Soccer Coaches Association Class S/M poll.
After putting his team ahead, Donovan sprained an ankle and his status is day to day, according to Litchfield coach Rob Andrulis.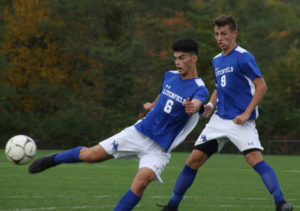 Daniel Pang gets a foot on the ball for the Cowboys. Below, Luke Parsons, left, races past a Gilbert defender.