The first-ever Litchfield Hills Farmers Forum was held at Wamogo Regional High School on Saturday.
More than 100 attendees, most of them farmers from northwest Connecticut, came to learn more about issues facing farmers and producers.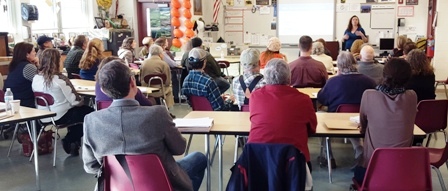 ~ BZ photos
The event was hosted by The Farmer's Table, a program of the non-profit Partners for Sustainable Healthy Communities. For the past five years the annual Farmer's Table dinners have been held throughout northwest Connecticut to raise funds to support regional farmers. Local producers began to identify multiple areas of concern and topics of interest.
Saturday's event was a chance for area farmers and producers to attend breakout sessions specifically targeted to them.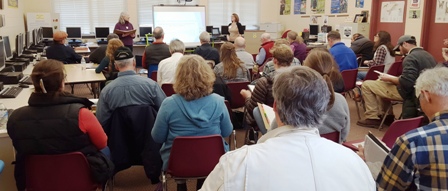 The first morning session offered two workshop choices: New Foods, New Markets (Emerging trends in produce choices, what buyers seek beyond traditional New England commodity crops); and Farm Liability from the Ground Up (advantages/disadvantages of sole proprietorship, partnership and a limited liability company, LLC, public liability, asset protection and liability insurance for farm operations).
The second late morning breakout sessions included: Access to Farmland: How to Find, Afford, Evaluate and Secure Land for Farming (Land access options, financing, and lease basics) and Farm Employment Liability: Worker's Compensation and Immigration Law (What you must know to protect your business).

After a lunch prepared by the Freund Farm of East Canaan, participants chose one of two workshops including: Your Farm's Brand: Creative, Inexpensive Marketing Strategies to Make Your Brand Stand Out and Where's the Money? How-To's of Successful Grant Applications.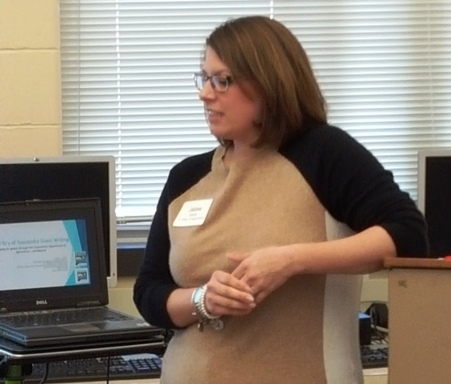 Jaime Smith from the CT Dept. of Agriculture talked about grant applications.
The final two sessions were: The Northwest Hills Food Hub (update on the assessment study) and Using Smartphones to Help Manage the Farm (gaining market advantage through technology).

The entire event was organized by a committee of volunteers with support from coordinator Lisa Arasim. This free event was paid for by proceeds from the annual Farmer's Table dinners.
Charlie Rowland, director of Wamogo's agriculture science and technology center, was on hand for the forum.
Theresa Freund of the Freund Farm in East Canaan catered breakfast and lunch.
Howard Rosenfeld of Warren helped organize the forum.
"